How to Prepare Appetizing Creamy chicken broccoli bake
Creamy chicken broccoli bake. Experienced cooks will raise their eyebrows when they see how this HEALTHY Creamy Chicken and Broccoli Pasta Bake is made. Bottom line here: this baked goodness is the antidote to winter. When the quinoa and chicken are cooked and the sauce is thickened, add the broccoli and a little bit of water (up to one cup) until the consistency is creamy.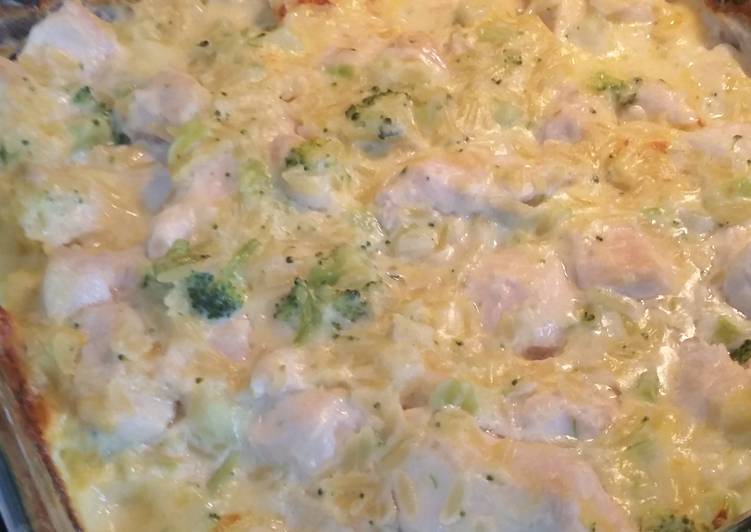 We are into another week of self isolating and I have never seen so many people rattling pans at home. So many people preparing favorite dishes, family. Chicken: Any cooked chicken will work for this recipe! You can have Creamy chicken broccoli bake using 6 ingredients and 3 steps. Here is how you cook that.
Ingredients of Creamy chicken broccoli bake
You need 4 of boneless chicken breast, cubed.
You need 1 1/2 cup of uncooked minute rice.
Prepare 1 1/4 cup of milk.
Prepare 10 oz of frozen chopped broccoli.
Prepare 1/2 lb of Velveeta cheese, cubbed.
It's 1/2 cup of miracle whip dressing.
You can use my favorite baked chicken breasts recipe or sauté two breasts in olive oil in a skillet until This hearty Broccoli Chicken Casserole recipe is made with your choice of pasta, tender chicken and broccoli, and the most delicious creamy. Sprinkle chicken, onion, bell pepper and broccoli in baking dish. Asparagus makes a delicious substitution for the broccoli. I used packaged chicken breast 'strips' and added a little pepper & salt to them.
Creamy chicken broccoli bake instructions
Heat oven to 375 degreed.
Mix all ingredients. Spoon into 12x8 inch baking dish.
Bake 30 minutes or until chicken is cooked through..
I used chicken mushroom soup because that's what I had and added very small pieces of fresh broccoli. I didn't have panko bread crumbs, so I crushed some large cut cheese. A hearty combo of rotini pasta, ground chicken, and diced broccoli mixed in a creamy sauce, this kid-friendly main dish is topped with melted Cheddar cheese. Stir the broccoli sauce mixture into the chicken mixture. Spoon into the prepared baking dish.